McAfee Channel Webinar - GDPR
Webinar
5th September 2017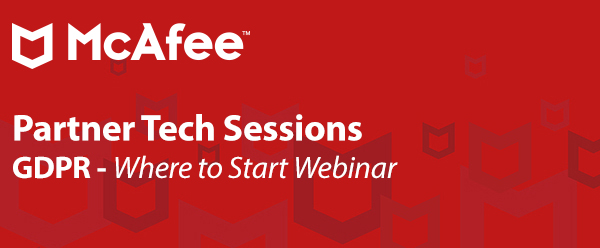 Together is Power
If you are McAfee Partner, then the McAfee Tech Sessions are for you! If your job involves McAfee solutions, then you need to know how they work! McAfee will provide you with all the information you need to make sure you feel confident in front of customers and prospects. These sessions help you broaden your understanding of the McAfee portfolio and help you dive deeper into technical features and functionality of individual products.
The new General Data Protection Regulation (GDPR) will be a big business driver for security solutions in many industries this year. The size of the potential fines and the reputation damage of a reported violation could have a negative effect on business digital transformation initiatives. For many organisations, the question is "where to start" and "where do we prioritize"?
Join this session to discover how McAfee can help your customers become ready for GDPR, and which solutions can upgrade their security posture when it comes to safeguarding data. McAfee will be discussing not only GDPR, but also talking about which solutions operate in the Data Protection Space. Yvonne Jaeger from the McAfee Channel Team will discuss how selling these solutions can earn you more money with the McAfee Profitability Programs like Deal Registration.
Webinar Details:
Date: Tuesday 5th September 2017
Time: 10.00am GMT
Hosted by: Yvonne Jaeger
View all events